SPECIAL MESSAGE FROM THE COMMISH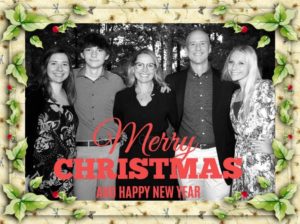 As 2022 comes to a close, I have spent a lot of time reflecting on this past year. I am so grateful for the support of my family, long-time friends and for all the new friends I have been blessed to cross paths with during this time. The opportunity I have been given to serve our community is one I will be forever appreciative of. We truly have one of the most charitable and loving districts in our county. The dedication and love of the people is the reason we have such a special place to call home. So as this year ends and the new one begins, I want to personally wish you all a Blessed and Merry Christmas full of happy memories with family and friends and a prosperous New Year.
Your Humble Public Servant,
Mary
"For to us a child is born, to us a son is given; and the government shall be upon his shoulder, and his name shall be called Wonderful Counselor, Mighty God, Everlasting Father, Prince of Peace."
- Isaiah 9:6
AND PLEASE DON'T FORGET TO SUPPORT LOCAL!!
STATE OF THE COUNTY

TOTAL CURRENT DEBT

$1,047,540,000*

Approx $140m is self-supporting
*$129,000,000 (Pending Bond Acquisitions)

COUNTY BUDGET

$759,489,347
(as of 9/30/22)

COUNTY EXPENSES

$141,250,058
(as of 9/30/22)

COUNTY REVENUE

$42,425,527

(as of 9/30/22)

Click here for more information about the Financial Status of the County
FROM THE DESK OF THE COMMISH

HIGHLIGHTS
LAST MONTH

CAPITAL PROJECT UPDATE:

Bond Issuance for an additional $50,100,000 (11-22-19) and $79,700,000 (11-22-20) which will take the county's overall budget over $1 billion in principal debt and an estimated $74,499,220 in interest for a total 20-year debt of just under $1.4 billion

PROCLAMATIONS/RECOGNITIONS:
Recognition of Nolensville Little League Team, Page High Girls Soccer Team, Ms. Glendra Thompson

SCHOOL UPDATES:
A 2% Raise for Staff and an additional 5 paid holidays were approved (11-22-1, 11-22-2)

Additional Buses to be purchased for $2.4m (11-22-3)

DEBT UPDATES:
County to authorize issuance of Bonds in the total amount of $129,800,000 to pay for Capital Projects approved during the FY22 Year. (11-22-19, 11-22-20)

TAX UPDATES:
Educational Impact Fees have been readjusted based on last three years school enrollment/building costs. (11-22-28)

County Commission Resolution to request Historic District Tax Classification by State Legislature in effort to remedy higher property taxes for areas deemed to be historic. (11-22-40)


Total of 40 resolutions on Agenda to be Voted On

HIGHLIGHTS
THIS MONTH

No Commission Meeting this Month

Additional

Information

Please submit any questions or comments here
MEET THE GREAT PEOPLE OF OUR COUNTY

Meet Sgt. Knox and Officer Cartwright. Sgt Knox has served the Williamson County Sheriff's Office for over 10 years. He was born and raised in our County and is a graduate of Page High School. He and his wife and children currently live in Williamson County.

Officer Cartwright has been there for just over a year after serving several years as an officer in Hickman County. He and his wife still reside in Hickman County and are expecting their first child this next spring. This past week I had the opportunity to ride along with both of these great men as they patrolled our roads to make sure our families are secure and our roads are safe.

While I learned more than I could ever share here, there's no doubt that our officers have a heart for what they do and we are very fortunate to have such great people dedicated to the families who live here. If you happen to encounter any of our men or women in brown or blue, be sure to let them know how much we appreciate their service to our county.
Nolensville Blue Watch
Our Mission Statement: "A volunteer civilian body formed to support the officers of the Nolensville Police Department in mind, body, and spirit. To stand with them now and in the future."
Arrington Volunteer Fire Dept
Arrington Fire and Rescue is responsible for emergency calls for service on the East side of Williamson County. We are a full service Fire Department meaning, we are dispatched to brush fires, odor investigations, hazmat, alarms, first responder medical calls, accidents, rescues, fire supression, and mutual aid calls. In addition, we cover extrication and calls for rescue in other districts including, all of College Grove and parts of Peytonsville, and Flat Creek-Bethesda Fire Departments and thier communities. Arrington is completly volunteer with no paid members and no charges are issued to any person requiring our assistance.
If you would like to nominate a charitable organization from District 5, please submit info here
UPCOMING DISTRICT 5 EVENTS




Winter Market – 10 AM to 1 PM

Dec 3 to April 29

@Mill Creek Church of Christ




County Commissioner Meeting

Monday, January 9th @ 7:00pm

1320 West Main

Franklin, TN 37064

Check out Other District 5 Events

If you have a District 5 event you would like to promote,
please submit info here
WE'RE HIRING

To view all County Job Listings, click here
"And let us not grow weary of doing good, for in due season we will reap, if we do not give up."
- Galatians 6:9